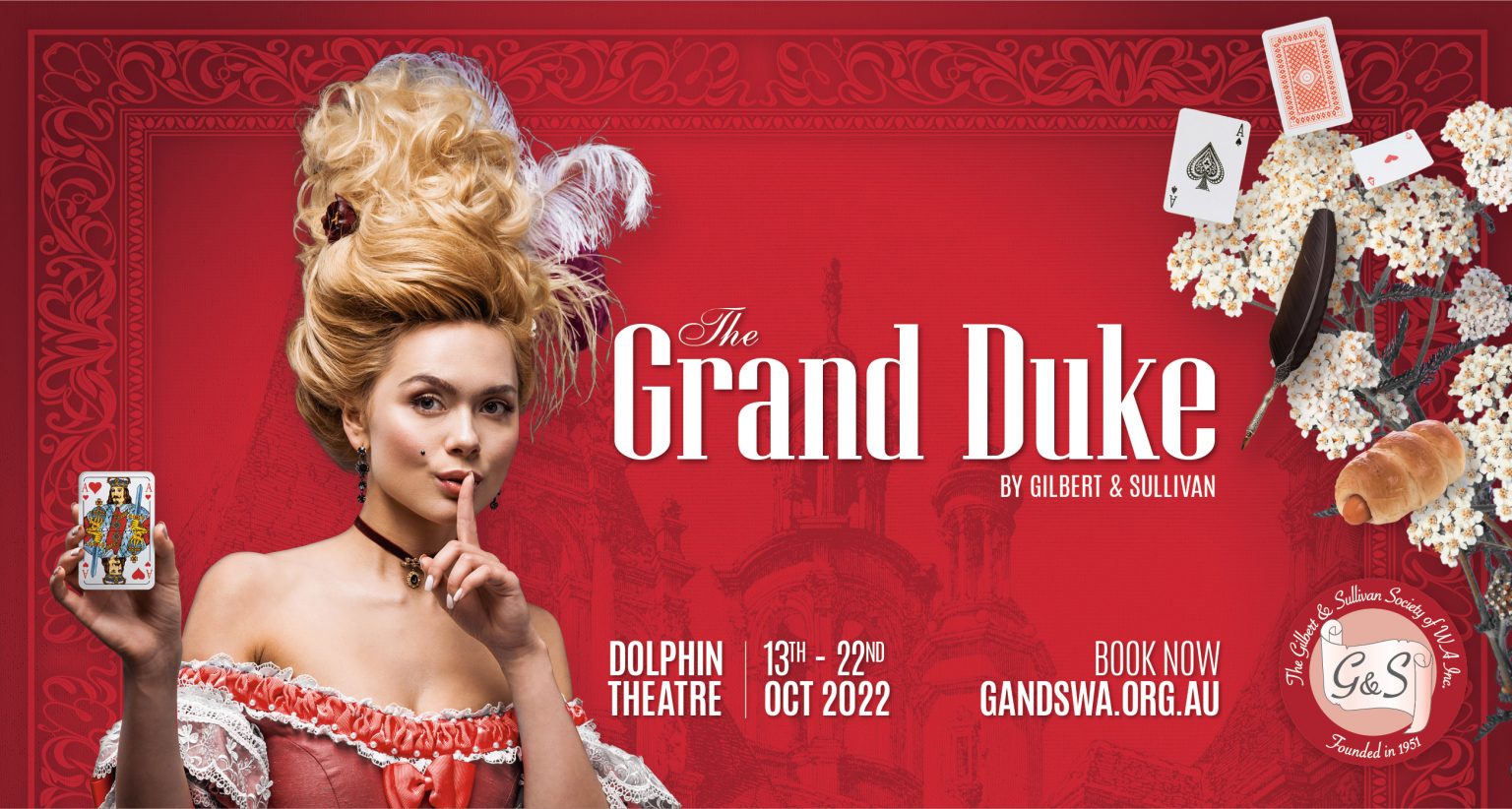 A breezy romp full of catchy tunes and imaginative absurdity, this rare theatrical treasure is a must-see for fans of light opera and musical theatre.
G&S WA is excited to present The Grand Duke, Gilbert & Sullivan's collaborative finale to their magnificent musical canon.
A theatrical troupe of actors comically conspires to take over the Grand Duchy of Pfennig-Halbpfennig but are caught out by the Grand Duke's detective.
To save the company, a statutory duel is suggested between Ernest, the troupe's manager and his leading comedian Ludwig. Drawing playing cards instead of weapons, whomever draws the lower card is deemed the loser and will confess to the plot.
Things go awry when the unhappy Grand Duke Rudolph hears of the conspiracy (but not the details) and impulsively takes part in second statutory duel…
With four fiancées complicating matters but only one leading man – who really has the right to rule?
Featuring the quick wit and farce-talking humour of WS Gilbert with the infectious energy of Arthur Sullivan's music, make sure you take a spin on the roulette wheel for this can-can-can romantic comedy!
"The Grand Duke is one of the most enjoyable Gilbert & Sullivan operettas." – Classical.net
"Thoroughly entertaining, with plenty of jokes and catchy tunes." – UK Theatre Network
Production Creatives & Cast
Director: Paul Treasure
Musical Director: Michael Brett
Ernest Dummkopf: Justin Freind
Julia Jellicoe: Belinda Butler
Ludwig: Michael Cummins
Lisa: Aimee-Rose Keppler
Rudolph, the Grand Duke: Mark Thompson
Baroness von Krakenfeldt: Emma Hazell
Dr Tannhauser, a Notary: Robrecht Herfkens 
Prince of Monte Carlo: Glenn Rowan
Princess of Monte Carlo, his daughter:  Paris Ceglinski
Herald: Nicholas Navarra / Zac Porter
Ensemble: Alister Walters, David Clark-Murphy, Hannah Jade Keppler, Imogen Porter, Jennifer Van den Hoek, Jessica Karauria, Judith Clark, Megan Lilley, Michael Hewson, Nico Keppler, Rebecca Brockwell, Terry Hanavan, Thomas La Cava, Vanessa Cooper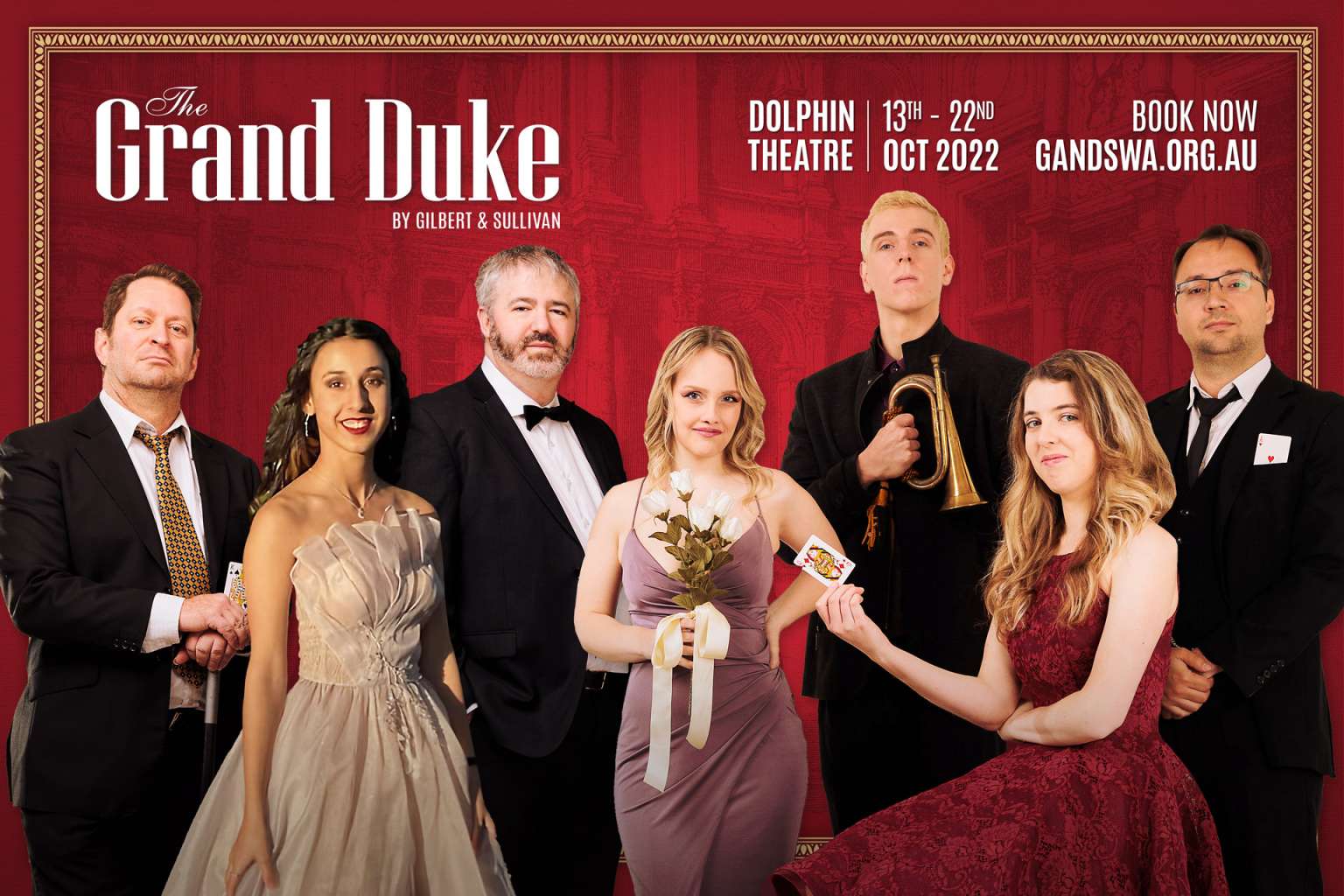 Thursday, 13 October – 7.30pm
Friday, 14 October –  7.30pm
Saturday, 15 October – 2.00pm (matinee) and 7.30pm
Wednesday, 19 October – 7.30pm
Thursday, 20 October – 7.30pm
Friday, 21 October – 7.30pm
Saturday, 22 October  – 2.00pm (matinee) and 7.30pm
We appreciate you may have concerns about Covid-19. In the interests of the safety of its members, the Gilbert and Sullivan Society of WA requires that all participants in its productions be vaccinated to the fullest extent of their current eligibility.
The Dolphin Theatre has a Covid-19 plan in place, and adheres to Live Performance Australia's guidelines for Covid-19 in their Terms and Conditions page regarding Exchanges, Donations and Refunds.