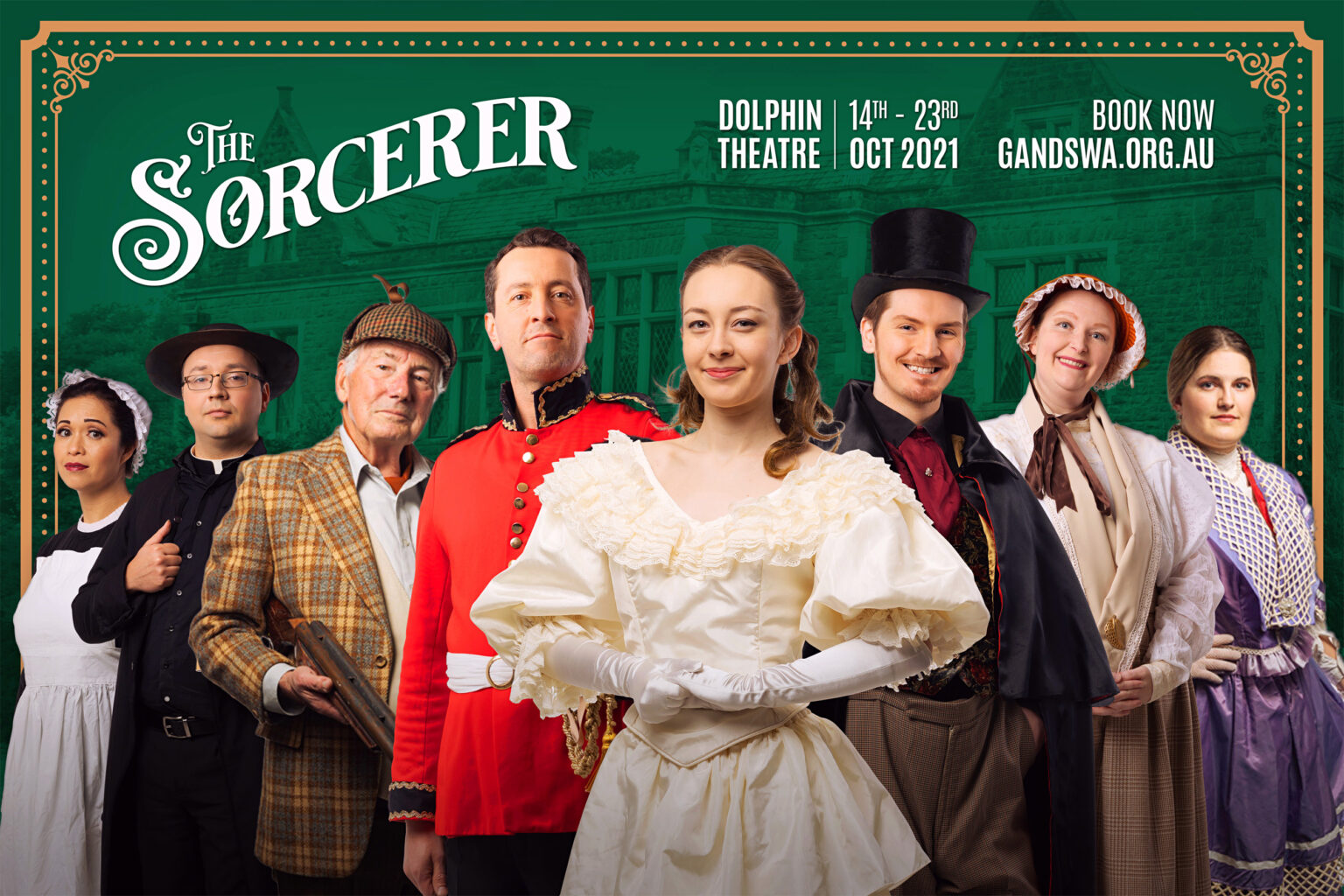 A romance tested... A town under enchantment... Can the spell be broken?
G&S WA proudly presents The Sorcerer – the toe-tapping, spellbinding musical that started it all!
Gilbert & Sullivan's inaugural full-length collaboration, The Sorcerer is filled with memorable characters, witty and wonderful music, and a tantalizing story-line.
The tiny town of Ploverleigh is a happy place, busy with preparations for the engagement of Aline, the blue-blood daughter of Lady Sangazure; to Alexis, an officer of the Grenadier Guards and son of Sir Marmaduke Poindextre. Other romances are also waiting to bloom, as the smitten Constance pines for the oblivious Dr Daly, and Sir Marmaduke confesses a long held secret affection for Lady Sangazure.
Wishing everyone could be as happy as he is, Alexis declares that love should have no rank or social distinctions and employs the services of a Sorcerer to brew a love potion so the whole town may experience the joys of romantic bliss. Filtered into the tea served at the engagement celebration, all are soon under its intoxicating influence. However, topsy turvy mismatches are awakened! Will true love survive?
The Sorcerer packs ample charms, including a felicitous score, a Verdian drinking song turned to teetotal ends, and at least one chorus that has reached the periphery of pop culture. – The New York Times
…there is much to enjoy in this satire on Victorian-era English country manners and the obsession with matters supernatural which held much of middle-class England in its thrall at the time. – Presto Music
The Sorcerer includes some of the most memorable moments in the whole Sullivan operetta canon. From the very first notes in the overture, there are a wealth of good tunes. – Classical.net
The Sorcerer was first staged in 1877: it is one of the lesser-known comic operas/operettas, yet has one of Sullivan's most inspired scores, and contains some of Gilbert's wittiest, stylised dialogue and lyrics. – Operetta Research Centre
Featuring seasoned performers from the worlds of musical theatre and opera, celebrate The Gilbert & Sullivan Society of WA's 70th Anniversary Year with a standout show from a much loved and illustrious organisation, an enchanting event not to be missed!
Thursday, 14 October – 7.30pm
Friday, 15 October –  7.30pm
Saturday, 16 October – 2.00pm (matinee) and 7.30pm
Wednesday, 20 October – 7.30pm
Thursday, 21 October – 7.30pm
Friday, 22 October – 7.30pm
Saturday, 23 October – 2.00pm (matinee) and 7.30pm