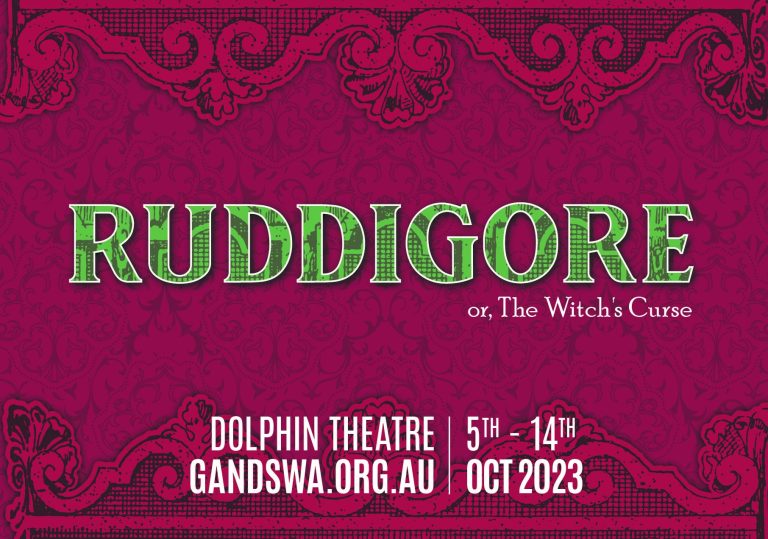 Audition Notice
Ruddigore or The Witch's Curse
by WS Gilbert & Arthur Sullivan
Director: Alan Needham
Musical Director: Michael Brett
Production company: The Gilbert & Sullivan Society of WA
Casting Lead roles and Chorus – all ethnicities welcome!
Audition dates:
  • Saturday, 10 June 2023
  • Sunday, 11 June 2023
Show season: October 5 – 14, 2023 (9 performances) at Dolphin Theatre, Crawley.
To express interest or book an audition time contact:
Roger Starbuck – 0428 763 478 – auditions@gandswa.org.au
If you are unavailable on the weekend of 10 / 11 June, please send an email to Roger expressing your interest and he will advise further.
Characters:
Robin Oakapple /Sir Ruthven Murgatroyd (light baritone): a character role changing from a simple farmer in Act 1 (in disguise) to becoming the "bad" baronet of Ruddigore in Act 2.
Rose Maybud (soprano): a sweet and virtuous village maiden.
Dame Hannah (contralto): Rose Maybud's aunt with an interesting backstory and history with the Baronets of Ruddigore.
Sir Despard Murgatroyd (bass-baritone): Robin / Ruthven's younger brother, evil (though contrite) baronet in Act 1 who becomes a sanctimonious "do-gooder" in Act 2.
Richard (Dick) Dauntless (tenor): A sailor, Robin's best friend and foster brother and soon his rival for Rose. A hornpipe dancing sea dog!
Mad Margaret (mezzo-soprano): initially presents as a fringe of society person with a mad scene (i.e. Lucia di Lammermoor / Ophelia) in Act 1 but joins Sir Despard in his Act 2 conversion to virtue. One of Gilbert's greatest characters.
Sir Roderick Murgatroyd (bass): Principal ghost, the most recent descendent and leader of the Ruddigore ancestors.
Old Adam Goodheart (bass): Robin's faithful servant. Significant dialogue and ensembles including a duet with Robin / Ruthven.
Zorah (soprano): Professional bridesmaid.
Ruth (speaking / chorus): Professional bridesmaid.
Male chorus: featured as villagers, landed gentry, ghostly ancestors.
Female chorus: featured as professional bridesmaids, villagers
Audition notes:
Auditionees must prepare one song, in English, to be sung with piano accompaniment.
Auditionees must provide 2 copies of the sheet music for their chosen song, unless it is from the G&S repertoire.
Additional notes:
Rehearsals are scheduled for Monday and Thursday evenings and Sunday afternoons unless otherwise advised. You may not be required for all of these scheduled times; all cast and crew will receive detailed rosters during the rehearsal period. The first call will be a "Meet & Greet" on Thursday, 13 July.
If you would like to volunteer to help out behind-the-scenes i.e. props, costumes, set, bump-in etc. we would love to meet you! Please send an email to Max Page, Production Manager: productions@gandswa.org.au to discuss further. Thank you.
Prepare for a Gilbert and Sullivan spooktacular this October!
G&S WA is thrilled (and chilled!) to present Ruddigore, a spellbinding seaside gothic by the masters of musical comedy.
Shy and law-abiding, gentleman farmer Robin Oakapple is working up the courage to ask the virtuous Rose Maybud to marry him. However, he holds a dark secret – he is actually Sir Ruthven Murgatroyd, the cursed Baronet of Ruddigore who fled to escape his fate, consigning his younger brother Despard to a life of dastardly deeds.
When his true identity is revealed by a jealous rival, Robin / Ruthven is compelled to commit a crime every day – or face an agonising death. Will he be able to break free from the witch's curse?
With marvellous music from Sullivan and Gilbert's most witty and weird characters, don't miss this irreverent tale with a spirited topsy turvy twist!
"Ruddigore? Ruddimarvellous." – Absolute Theatre
"A tongue-in-cheek gothic fantasy and a laughter spinning, giggle-fest" – Australian Stage
"Comic gold!" – Stage Whispers